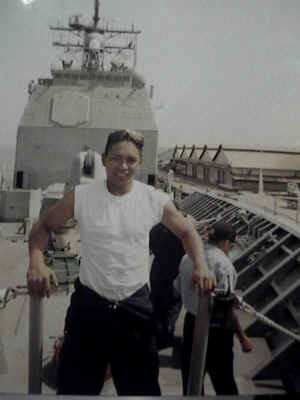 USS Cowpens and Randalh J. Ignacio BM3 US Navy
USS Cowpens Comes Home
By Eric Talmadge
Monday, May 5, 2003 9:33PM EDT
USS Kitty Hawk returns to home port in Japan
By ERIC TALMADGE, ASSOCIATED PRESS
YOKOSUKA NAVAL BASE, Japan (AP) - Thousands of wives, husbands, daughters and sons lined the piers of this U.S. naval base to greet the USS Kitty Hawk, which returned Tuesday after four months supporting the war in Iraq.
"It's my third time welcoming him home. But this time it has special meaning, because he went to war," said Arkila Campbell, waiting with her four small children. Her husband, Marcus, of Sandersville, Miss., is a petty officer aboard the ship.
A loud welcome party ashore featured rock bands, hamburger stalls and free cake, and VIPs on hand included U.S. Ambassador to Japan Howard Baker.
Also returning to port Tuesday were the USS Cowpens and the USS John S. McCain. Both ships also played an active role in the war. The Cowpens was the fist ship to fire Tomahawk missiles at Iraq from the Arabian Gulf.
"Excited is not the word," said Aubrey Stalcup, from Woodbridge, Va., whose husband, Petty Officer 2nd Class Rick Stalcup, returned aboard the McCain. "It's complete euphoria. They left so quick. When the war actually started it was scary. I'm just thrilled."
The Kitty Hawk and its strike group left this port just south of Tokyo on Jan. 20 to join operations in the Gulf. Two other ships in the five-vessel force remain deployed. Yokosuka, which also has a base for the Japanese navy, is home port to the Kitty Hawk and other ships in the U.S. Seventh Fleet, the largest forward deployed fleet in the Navy.
While the Kitty Hawk was in the Gulf, another carrier, the USS Carl Vincent, was deployed to the western Pacific to keep watch over North Korea amid heightened tensions over that country's suspected development of nuclear weapons and long-range ballistic missiles.
Previous Story Back to Inspirational Stories Next Story